Fruit can play a major role in maintaining the balance of essential electrolytes in the body, especially sodium and potassium. One such exotic fruit is the organic Mangosteen, famously known as the "Queen of all fruits", Mostly found in tropical areas of Southern America, Indonesia, Philippines and a few parts of Kerala, India, it is a rare fruit with multiple health benefits. It is a purple colored, sweet, tangy, juicy and somewhat fibrous fruit with a thick rind on the outside and white colored flesh on the inside. The fruit is known to be grown since the beginning of the 15th century. It was only during the 1700s that it was introduced to the western world. The fruit of the mangosteen is white and very sweet; the circle of wedge-shaped fruit pieces contains 4–8 segments.The specialty of organic Mangosteen is that it grows only in tropical regions.

For hundreds of years the people of Southeast Asia have traditionally used the Mangosteen, to possibly ward off and treat infections, reduce pain, control fevers and boost weakened immune systems. In southeast Asia Mangosteen is also made into an ointment and applied to eczema and other skin disorders. Many of the other health benefits of xanthones from the Mangosteen can be expressed in terms of how they act against various ailments. The nutritional value of every food product is measured on an ORAC score (Oxygen radical absorbance capacity).

When speaking of ORAC score, the our Raw Mangosteen Powder boasts of an incredible 2,510 ORAC score, a rating practically unbelievable in an organic product. Organic Mangosteen powder consists of large amount of Xanthones, a bunch of naturally occurring polyphenols present in the pulp of the purple Mangosteen fruit. It's not to wonder why mangosteen is considered one of the best superfoods there is. The fact is that the organic Mangosteen powder boasts of a higher ORAC score as any organic Raspberry, Blueberries or Boysenberries.

Mangosteen powder is loaded with powerful antioxidants, anti-inflammatory and possible antibiotic compounds. Scientific research shows that Mangosteen contains a class of naturally occurring polyphenol compounds known as xanthones. These xanthones are found in the ripe dark purple rind (called pericarp) of the fruit.Apart from its nutritional value, it is known provide numerous health benefits. According to a recent survey by the food association in the USA, it was concluded that Mangosteen possesses the ability to produce a large number of free radicals which can fight cancer causing agents in the body.
This is caused because of Xanthones as discussed earlier. It is also helpful in one's cardiovascular wellbeing and can rejuvenate cells which have been harmed by free radicals.
A regular dosage of Raw Organic Mangosteen Powder is sure to enchant your taste buds and help you get back to the best of health. The innumerable nutrients of this magical fruit will make sure your body is always filled up with essential nutrients.

Potent phytonutrients. Derived from the Greek word phyto (plant) and nutrient (a constituent of food necessary for normal physiological function), phytonutrients—also known as phytochemicals—are natural, bioactive compounds found in plant foods.

Most phytonutrients overlap and complement one another, boasting complete benefits that include antioxidant effects and immune system stimulation. In short, specific phytonutrients found in fruits and vegetables work together with other nutrients to protect your health. These protective plant compounds are an emerging area of health and nutrition, with new research reported almost daily.Phytonutrients found in the mangosteen include: Xanthone, Catechins, and Proanthocyanidins. The strongest and most researched phytonutrients of the mangosteen are its xanthones.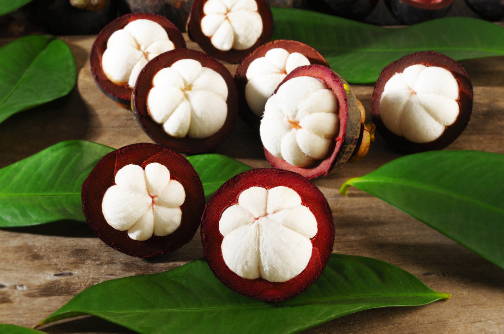 ORGANIC MANGOSTEEN POSSIBLE BENEFITS.

Help in vision health – may prevent protein cross linking associated with glaucoma
Help to combat allergies (anti-histamine), support immune system
Help to manage weight – reduce body fat
Help to combat pain (anti-inflammatory property which may decrease inflammation, pain and joint damage linked with arthritis, or pain caused by sports workout and minor injuries)
Decrease free radical damage and inflammatory build up – help to maintain the blood vessel health, cholesterol level, protect heart muscle, lower high blood pressure
Boost energy without stimulants• Maintain intestinal health – relieve diarrhea, constipation, stimulate normal bowel health
Help in skin condition – can be applied on the skin for eczema, fight against bacteria which causes most acne, assist in wound healing
Help to combat infection – viruses, bacteria, fungi, parasites, fevers• Boost energy without stimulants• May decrease blood sugar in Type II diabetes by making insulin more effective
Help to combat free radical damage that resulting in cell mutations (cancer and tumor growth)
Protect brain and nerve health – help to combat Parkinson, Alzheimer disease
Relieve depression and anxiety

Xanthones are a unique class of biologically active compounds that possess a number of bioactive capabilities—such as antioxidant properties. According to research, the whole mangosteen fruit is the source of dozens of different xanthones.Over 200 xanthones are currently known to exist in nature, and approximately 40 of them are found in mangosteen. It is the mangosteen rind, which is somewhat bitter, that has the array of polyphenolic acids including the xanthones and tannins which provide the powerful antioxidants.

Due to its numerous health benefits, the Mangosteen and its extracts are regarded as a source of healing. The fruit is respected all over South East Asia for its ability to cure pain, clear contaminations reduce fevers and cure skin problems. Since powdered form of any food gives maximum absorption efficiency of its nutrients, the powdered form of Mangosteen is quite popular in these regions and is consumed on a daily basis.

Why choose Organic Mangosteen powder over non organic?Well most if not all products harvested in todays world are full of pesticide, pollution and heavy metals, our Natural Organic Mangosteen is grown far from any contamination and in an Organic friendly environment where no pesticides or chemical products are used to cultivate the crops.


1 to 3 teaspoons daily
Like all Superfoods if its the first time you add Jungle Mangosteen powder to your diet start with 1 teaspoon and see how your body reacts and feels than increment dose of up to 3 teaspoon daily, we are all different and have higher or lower tolerance to certain foods so listen to your body and how you feel.


STORAGE.
If stored and taken care of correctly our Freeze dried Organic Jungle Mangosteen powder benefits and nutritious value will have a shelf life of up to 2 years.To maintain its freshness all ways reseal after use empty any air left in bag before resealing, Store in room temperature or below keep away from heat


PACKAGING.
We use and recommend keeping our Mangosteen powder in our jungle bags for the simple reason that they have a thin metal lining the helps protect our products from moisture, oxygen, bad odors, bacteria, exterior flavours, keeps there freshness helping prolong there shelf life.
BOTANICAL AND OTHER NAMES USED FOR MANGOSTEEN
Garcinia Mangostana


COUNTRY OF ORIGIN:
Thailand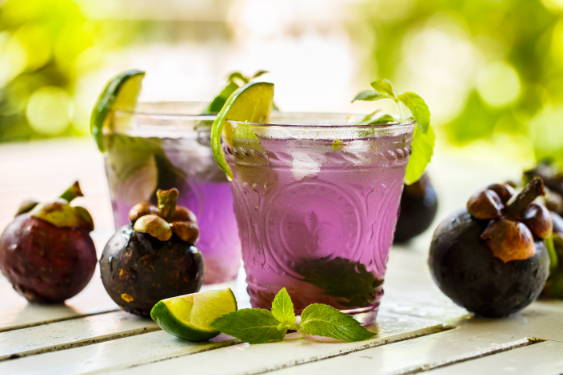 The good thing about the organic Mangosteen powder is that it can be consumed easily, It can be mixed with water to make juice or even other ingredients to make mocktails.Unlike other superfoods, the organic Mangosteen powder is quite likable in taste and hence can be a delight while consuming it. It can also be mixed with other food products for flavor or to increase its nutritional value.