Increases and sustains energy naturally as well as detoxifying and cleansing your body.It strengthens your immune system as its a natural source of antioxidants to help repair damaged cells.

Our Australian Organic Wheat grass is most likely the healthiest and best option for anyone trying to get there daily dose of greens with a wide range blend of enzymes, amino acids,essential vitamins, minerals and phytonutrients. Needless to say our Australian Organic Wheat grass powder will offer you a powerful juice full of energy, vitality that will help detoxify, cleanse, nourish and heal your body.In todays modern diet all of the refined processed foods we eat contribute in making our bodies acid levels reach higher than normal also causing us to digest higher amounts of toxins, our wheat grass helps restore natural balance of our bodies PH as it acts as a alkalising agent, in big reason due to Its great quantity of minerals including alkaline, potassium, calcium, magnesium and sodium.
Our Organic Wheat grass also has a high content of chlorophyl, Some naturists and professors strongly believe chlorophyll elevates your bodies oxygen levels at the same time helping treat rheumatic pains and some cancers.

Have your daily dose of greens with one simple gulp, our wheat grass is packed with so many nutrients that only 30ml of this delicious juice has the same nutritional value as 1kg of Green leafed fresh vegetables, only 3.5g (1 teaspoon) is equivalent to a whole spinach salad.
Full of essential enzyme like protease that helps the digestion of proteins, potent antioxidants, amylase that help with digestion, Lipase that is an enzyme that breaks down dietary fats into smaller molecules called fatty acids and glycerol. A small amount of lipase, called gastric lipase, is made by cells in your stomach. This enzyme specifically digests butter fat in your food, thus making our Organic Wheat grass powder a great help to dieting or trying to loose weight in a healthy matter.

ORGANIC AUSTRALIAN WHEAT GRASS POSSIBLE BENEFITS.

May help people with acne and pimple problems
Helps Strengthen the immune system
Great deal of antioxidants
Anti-inflammatory properties
Has 100's of live enzymes
Detoxifies the body
Contains over 70 vitamins and minerals
Can help digestive system and control cravings
High concentrated source of protein
Contain 70% chlorophyll
Can increase energy and stamina
Can improve mental and physical well being
Can help with regulating sleep patterns
Contains compounds that are known to improve anti-ageing properties
Could help improve memory and mental clarity
Can improve clotting of blood
May be helpful for proper cleansing of the the liver, kidneys, blood and intestines
Can help regulate blood sugar levels
Can help with improving vision
Helps protect our body from free radicals

Eating your daily dose of greens has never been easier our Jungle powder mixes well with any drink or smoothie.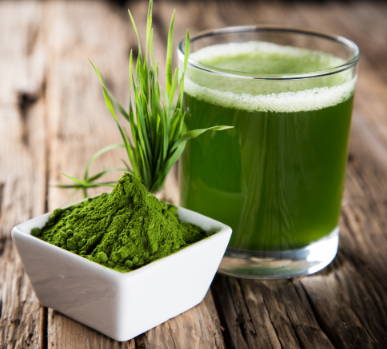 Consuming Organic Wheat Grass powder will give you a healthier skin making it smoother more hydrated and less dry wrinkles.Vitamin C is always associated with oranges or citric, I'am sure you would love to know that Organic Wheat Grass powder has more than vitamin C than oranges and double vitamin A than carrots.
Our wheat grass is a great source of easy absorbing nutrients with a large dose of Vitamin B, C, E, H, & K Beta- Carotene, minerals, omega oils and amino acids, this explosive cocktail of nutrients makes our Australian Organic Wheat grass a great way to restore, rejuvenate and heal our bodies in a natural way.
Hydration and elasticity of the skin, eliminating bad breath fighting against allergies, helping us have better digestion and metabolism while also boosting our immune system amongst other things is also associated with consuming this phenomenal natural powder.
When you purchase our Organic Wheat Grass you can feel safe about knowing what you are feeding to your body from a good source.

Our Organic wheat grass powder comes directly from one of the most isolated parts of Australia protected from high density urban development and heavy industrial operations this ensures a clean pollution free Green environment.Australia is recognized world wide as a high quality cereal producer and source of clean food products, Australia is free of acid rain and has a clean Green environment.
Well most if not all products harvested in today's world are full of pesticide, pollution and heavy metals, our Natural Organic Australian Wheat Grass is grown far from any contamination and in an Organic friendly environment where no pesticides or nasty products are used to cultivate the crops, harvested at a Young age 1 to 2 weeks our Wheat Grass maintains all of its rich properties and be passed on to our clients in a simple powder format.
1 to 2 teaspoons daily

Best thing about our organic wheat grass powder is its easy digestible and can be prepared in just a few minutes anytime of the day for quick consumption.
STORAGE.
If stored and taken care of correctly our Organic Jungle Australian Wheat Grass powder benefits and nutritious value will have a shelf life of up to 1 year.To maintain its freshness all ways reseal after use empty any air left in bag before resealing, Store in room temperature or below keep away from heat
PACKAGING.
We use and recommend keeping our Australian Barley Grass powder in our jungle bags for the simple reason that they have a thin metal lining the helps protect our products from moisture, oxygen, bad odors, bacteria, exterior flavours, keeps there freshness helping prolong there shelf life.
BOTANICAL AND OTHER NAMES USED FOR AUSTRALIAN WHEAT GRASS:
Triticum
COUNTRY OF ORIGIN:
AUSTRALIA